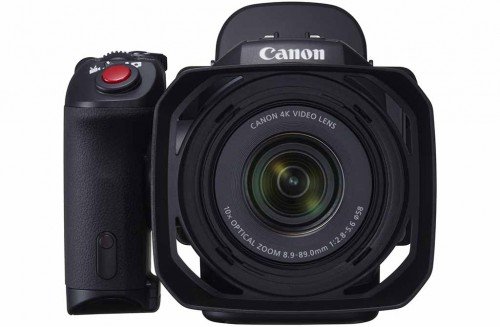 At first there are 4K cameras and then there are Hybrid 4K cameras. After much of the hype (images of unreleased Canon camera featuring Jackie Chan that went online few days ago) and speculations – Canon has today officially announced its 'hybrid' 4K companion to the EOS range of cameras in the form of Canon XC10.
Its basically a compact and lightweight camera capable of shooting professional quality 4K footage on its 1″ sensor and is also equipped with 10x optical zoom lens and a 5axis image stabilizer (which seems be the norm of the new gen cameras). The camera also boasts a 12stop dynamic range and not to forget the Canon log gamma option which makes it ideal companion to use it as a B or C cam when using it with its elder siblings.
While the sensor is no-where near as big as the Super35 ones in the C100 and 300, it might still be capable of some nice out of focus backgrounds at longer focal lengths. In fact the sensor is slightly bigger than Super16 – which is the chosen documentary standard for many years.
The XC10 has a sensitivity range of 500-20,000 ISO in video mode. Noise is obviously going to be worse. You can also take 12 megapixel stills with it.
The camera records 8-bit 4:2:2 4K video in the new Canon XF AVC codec. This is contained in a MXF wrapper and the bitrate reaches 305Mbps. This gives approximately 25 min recording time on a 64GB CFast 2.0 card. Digic DV5 processing makes this possible. The codec is new and Canon hope that it will be widely supported in major editing programs very soon. Lower bit rate Full HD can also be recorded to CFast 2.0 or SD cards.
The lens isn't a constant aperture which is pretty evident – it starts at f2.8 at the wide end, but is only F5.6 at full telephoto. The front filter thread is 58mm. There is a single 1/8 stop (3-step) equivalent ND filter that is built into the camera.
Autofocus is contrast detection based and not a Dual Pixel CMOS AF type system (which is surprising – but "hope" they upgrade it in future). It is powered via Canon's LPE-6 batteries (like what is found in 5D m2 and m3)
Compared to other hybrid cameras like Sony's RX10 or Panasonic's FZ-1000 the XC10 has more professional features, but also a price tag to match. The target audience will probably be existing Cinema EOS users and people who need a small affordable 4K camera.
The pricing for the camera is expected to be around 1600GBP and a kit version with a 128GB CFast card for about 2000GBP and expected to be in market by June this year.
Will this take the share of market away from what Panasonic GH4 has managed to conquer – time will tell.
Until then enjoy this footage which Canon has put together using the XC10.
https://www.youtube.com/watch?v=QbTd5DbSk_g
 More information from the Canon Europe website > XC10