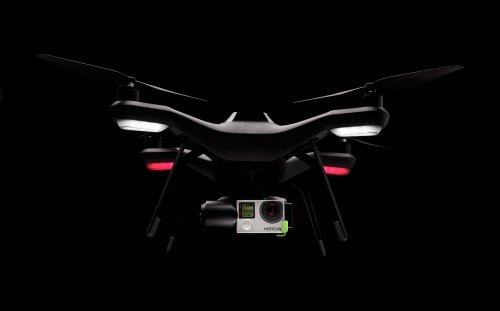 "Solo is a breakthrough in intelligent flight. It's not just smarter so that it can do more; it's smarter so that you have to do less. We've turned the Hollywood toolkit into software, and allowed everyone to experience epic video, both behind and in front of the camera." — Chris Anderson, CEO 3D Robotics
If those words cant get you pumped up then nothing else can – or maybe if we say one of the biggest surprise and buzzworthy products at the NABShow2015 had to be Solo – the smart drone by 3D Robotics.
Before we talk anything about the product lets take a look at this really epic product launch video – I would probably call this as a mother of all product launch videos.
Solo, an all-in-one personal drone whose ease of use and powerful new features kick off a new aerial age. With computing power unmatched in the industry—from two integrated Linux computers, one on the craft and one in the controller—Solo delivers several world-first technologies, such as unfettered in-flight access to GoPro controls, including wireless HD streaming straight to mobile devices, and effortless computer-assisted Smart Shot flight features that allow even new pilots to capture professional aerial video from day one.
If that is not enough then – Solo will launch starting at $999 !!!
Specs:
Flight time: up to 25 min without payload, or up to 20 min with GoPro and Solo Gimbal
Controller battery life of up to 4 hours; built-in rechargeable battery (8 hours with optional extended battery)
Weight: 1500 g; 1800 g with Solo Gimbal and GoPro
Autopilot: Pixhawk 2
Video latency: 180 ms
Wifi range: up to half a mile, depending on environment
More details : http://3drobotics.com/2015/04/3dr-introduces-solo-worlds-first-smart-drone/
So do we really think its time now for the folks at DJI to feel some competition for their Phantom/Inspire series ?